Four Greystar Executives named 2023 Women of Influence by GlobeSt
Press Release
May 23, 2023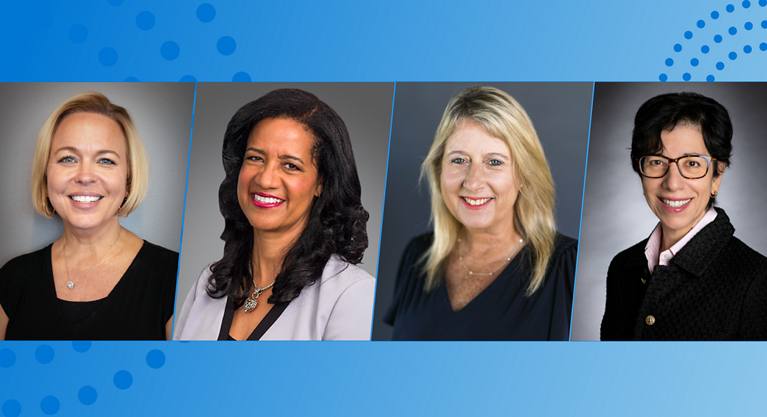 Charleston, S.C. – May 23, 2023 – Greystar Real Estate Partners, LLC (Greystar), a global leader in the investment, development, and management of high-quality rental housing properties, today announced that four of its executives have been selected as 2023 Women of Influence by the GlobeSt. Real Estate Forum. Over the past 40 years, The GlobeSt. Women of Influence Awards have recognized female professionals in the commercial real estate industry for their outstanding achievements.
The executives recognized include Jodi Bearden, Executive Director and Global Enterprise Services Leader; Terri Herubin, Senior Managing Director of Portfolio Management; Terry Pendergist, Senior Managing Director of Development Operations; and Aubyn Thomas, Senior Managing Director of Marketing, Sales, and Service Optimization.
"Jodi, Terri, Terry, and Aubyn could not be more deserving of this recognition, and their amazing talents continue to drive both Greystar and the industry at large to new heights," said Bob Faith, Founder, Chairman, and CEO of Greystar. "Each of these four women are critical to our success and serve as tremendous leaders within Greystar, and today we are proud to recognize them for their contributions and achievements."
Greystar's esteemed winners include:
Jodi Bearden, Executive Director | Global Enterprise Services Leader
Recognized by GlobeSt. as a winner in the Corporate Real Estate Executive Category, Jodi restructured and now leads the functions that impact Greystar's entire global business, as well as laying the foundation for the company's future global goals and growth. As a result of her leadership founding of the Greystar Enterprise Services function, the global platform works more cohesively and in a consistent global "One Greystar" fashion, setting the groundwork for future success and growth.
Terri Herubin, Senior Managing Director | Investment Management
Recognized by GlobeSt. as a winner in the Investment Professional/Owner Category, Terri is the leader of Greystar's US open-end funds, with more than $9 billion in gross asset value across multifamily and student housing. Terri brings decades of experience leading portfolio management teams and has successfully guided them through several global crises. She works collaboratively across the firm to achieve results for Greystar's partners while actively engaging as a mentor in the professional development of the investment management team.
Terry Pendergist, Senior Managing Director | Development Operations
Recognized by GlobeSt. as a winner in the Development Professional Category, Terry has built the Development Accounting team with over 125 team members overseeing more than 144 active North America development assets valued at over $16 billion, pursuit projects of over $11 billion, and over 331 completed assets. Viewed by her colleagues as a strong leader who maintains the firm's core values and pillars of excellence, Terry advances forward with strategic initiatives and a focus on team member development.
Aubyn Thomas, Senior Managing Director | Marketing, Sales and Service Optimization
Recognized by GlobeSt. as a winner in the Marketing & Communications Professional Category, Aubyn leads Greystar's Sales and Service Optimization function including the firm's National Strategic Marketing and Revenue Management functions through a focus on an ownable, best-in-class approach. Aubyn leverages the size and scale of over 817,000 units and beds to create the highest marketing value for our clients and residents across a team of 200 marketing professionals and 50 workstreams.
In celebration of this milestone, each individual will have their profile featured in the July/August 2023 issue of GlobeSt. Real Estate Forum. The 2023 Women of Influence will also be honored at an awards dinner on July 25, 2023, during the fourth annual GlobeSt. Women of Influence Conference. The full list of 2023 Women of Influence winners will be accessible on the Awards' website and on GlobeSt.'s nominations webpage.
About Greystar
Greystar is a leading, fully integrated global real estate company offering expertise in property management, investment management, development, and construction services in institutional-quality rental housing, logistics, and life sciences sectors. Headquartered in Charleston, South Carolina, Greystar manages and operates more than $250 billion of real estate in 234 markets globally with offices throughout North America, Europe, South America, and the Asia-Pacific region. Greystar is the largest operator of apartments in the United States, manages more than 817,000 units/beds globally, and has a robust institutional investment management platform comprised of more than $69 billion of assets under management, including over $29 billion of development assets. Greystar was founded by Bob Faith in 1993 to become a provider of world-class service in the rental residential real estate business. To learn more, visit www.greystar.com

About ALM
ALM is the most trusted media, information and intelligence company supporting both the practice of and business of professionals in the legal, insurance, commercial real estate and financial services industries. ALM delivers leading data, intelligence, insights, events and audiences essential for growing businesses globally to over 7 million professionals. Please visit www.alm.com for more information and visit www.alm.com/events/ to learn about our upcoming events. Please follow us on Twitter at @ALMGlobal_. Greystar pays a nominal subscription fee to ALM GlobeSt.com unrelated to these awards.
For more details about the GlobeSt. Women of Influence and the methodology behind the rankings, visit GlobeSt's website.

Greystar Media Inquiries
Liza Kunkel
Liza.Kunkel@Greystar.com